Subscribers Newsletter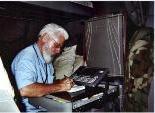 Alinskyian American Government
Comrade Obama, peace be upon him, was twice elected to be our Soros Funded Alinsky Organizer-In-Chief. Is it any wonder that we now have an Alinskyian American Government?
Vic Biorseth, Wednesday, May 30, 2018
https://www.catholicamericanthinker.com

All Comrade Obama ever did before entering politics, other than smoking and snorting dope, was Marxist Alinsky-Organizing for the internal destruction of institutions, under the auspices and funding of the evil Marxist-Globalist George Soros. So why should anyone be surprised by the now Alinsky-Organized "Deep State" bureaucracies and the creation of a Shadow-Government whose ultimate goal is the establishment of anti-American Marxist Global Government?

Continue Reading at: Alinskyian-American-Government
Do Not Respond To This Automatic Email.
Reply to this article at Alinskyian-American-Government Comments
Find ALL SITE articles at: The Catholic American Thinker CONTENTS.