Subscribers Newsletter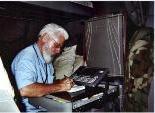 All the America Hating Americans, working hard to bring America down.
The American Citizenry has been infected with America hating Americans from her birth. But this national self-hatred really took off after the birth of Communism.
Vic Biorseth, Wednesday, April 19, 2017
https://www.catholicamericanthinker.com
The American Revolution was as much or more of a Civil War as it was a breakaway war against the tyranny of England. It was the new Patriots against the Loyalists, with, as usual, a huge segment of the population undecided, and trying hard to stay out of it. Unsuccessfully, in most cases. Once any war commences on your own ground your choices are not always yours.
Continue Reading at: America-Hating-Americans
Do Not Respond To This Automatic Email.
Reply to this article at America-Hating-Americans Comments.
Find ALL SITE articles at: The Catholic American Thinker CONTENTS.