Subscribers Newsletter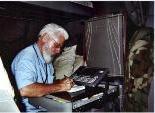 American Constitutionalism versus Any Other Political Ideology.
American Constitutionalism is to Politics what Roman Catholicism is to Religion: The Only "Real" Way To Go.
Vic Biorseth, Sunday, June 25, 2017
https://www.catholicamericanthinker.com
This dinky little pamphlet contains the whole Declaration of Independence, the whole Constitution of the USA, and all of the Amendments to the Constitution. As you can see, it is small enough to slip easily into a shirt pocket, along with a cell phone and whatever else is in there. And it's printed in an easy enough to read font; you don't need a magnifying glass or anything to read it with. It's short, sweet and very simple; nothing to it. The Constitution and all of its Amendments constitute a single legal document, written in English, that says very specific legal things. It is the Supreme Law of the Land in the USA. No other law may written to override it, violate it or interfere with it in any way. No law from any source whatsoever may ever be superimposed over it. It is, again, the Supreme Law of the Land.
Continue Reading at: American-Constitutionalism
Do Not Respond To This Automatic Email.
Reply to this article at American-ConstitutionalismComments
Find ALL SITE articles at: The Catholic American Thinker CONTENTS.