Subscribers Newsletter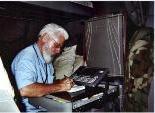 American Fences
Remembering the old adage, Good Fences Make Good Neighbors.
Rochelle Marie Harper, Wednesday, January 10, 2018
https://www.catholicamericanthinker.com

They come in infinite styles,
White picket, split rail, barbed wire, stone.
Fences tell the passing world
This land is mine alone. ...

Continue Reading at: American-Fences
Do Not Respond To This Automatic Email.
Reply to this article at American-Fences Comments
Find ALL SITE articles at: The Catholic American Thinker CONTENTS.