Subscribers Newsletter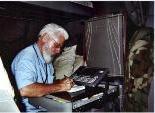 Restoring our American Identity.
With the election of President Trump, the Jig is Up, and we are recognizing and coming back to our own unique Christian American Identity. But do we recognize our enemies among us?
Vic Biorseth, Wednesday, November 01, 2017
https://www.catholicamericanthinker.com

So we have yet another incident involving an Islamic Jihadist renting a truck and running over innocent people in New York, shouting Allahu Akbar. And the immediate response of the supposedly best minds among us, again, ask the same stupid questions regarding "how did he get radicalized" and "what's his connection to any terrorist organization" and "who trained him, and where", etc., clearly demonstrating a recognized form of insanity.

Continue Reading at: American-Identity
Do Not Respond To This Automatic Email.
Reply to this article at American-Identity Comments
Find ALL SITE articles at: The Catholic American Thinker CONTENTS.