Subscribers Newsletter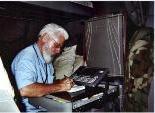 Cultural Restoration, or Destruction, is upon America. One or the other.
If the American Nation is destroyed, an American Remnant will restore the American Idea, somewhere.
Vic Biorseth, Tuesday, October 27, 2015
https://www.catholicamericanthinker.com/
Autumn is upon us, and winter is coming. Creatures great and small demonstrate the virtue of industriousness for us. Squirrels busily find and store nuts everywhere. Beavers cut willows and store them near the under-water entrances of their homes, so that food will be available beneath the ice throughout the winter. Most of those who carefully prepare for the winter will survive the winter. Those who do not, will not.
It is the autumn of American national existence, and many are they who do not even see what is coming. Most of those who store food and weapons and prepare themselves and their families will survive the coming global reset. Those who do not, will not.
The most important thing to clean and prepare is our immortal souls.

(Continue Reading at Original Source: American Remnant).
Do not reply to this automatic email.
Respond to this article at the actual article:
Respond to American Remnant.
Find ALL articles at: The Catholic American Thinker CONTENTS.