Subscribers Newsletter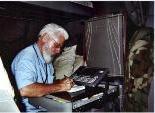 An American Resistance Counter-Revolutionary Movement.
America needs a Political Movement mirroring Michael Voris' Catholic Resistance! Movement. American Resistance would counter our Multiculture and return to identifiable American Culture.
Vic Biorseth, Friday, October 20, 2017
https://www.catholicamericanthinker.com

We participate in the Catholic RESISTANCE! Movement, as can be seen in our Church Militant Resistance Pages. And what that strictly Roman Catholic Movement is all about is the return to bedrock, magisterial Catholicism, in holiness, in teaching, adherence to doctrine and practice of the faith.

What RESISTANCE! resists, is the Catholic trend into a bland and weak Catholicism resembling Protestantism, fracturing and splintering of Dioceses and Parishes into radically different entities, and the not so gradual incorporating of the multiple heresies of Modernism into Catholic thought.

Continue Reading at: American-Resistance
Do Not Respond To This Automatic Email.
Reply to this article at American-Resistance Comments
Find ALL SITE articles at: The Catholic American Thinker CONTENTS.