Subscribers Newsletter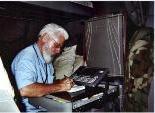 We're all looking for the Candidate who might fix our Anti-American Court.
The next President might get to appoint four new Justices; that's all well and good, but why don't we even think about Impeachment for the majority of them right now?
Vic Biorseth, Friday, February 05, 2016
https://www.catholicamericanthinker.com/
It doesn't even cross our minds. We the People, like our leaders, have lost our spines. Not standing for anything, over time, trains us to sit still for everything. We have been accommodating error and even evil for so long now that we just "tut-tut" at newer manifestations of it, worry aloud, talk, and "negotiate" to make the simple complex, and the complex more complex. The perfect, simple, Constitutional solution is always right there in front of us, and always being ignored.
It is not possible for a sworn officer of the United States Federal Government to violate the Constitution in the performance of his office without violating his oath of office at the same time. By definition. And that is precisely why the Framers put the Impeachment process in the Constitution in the first place.
(Continue Reading the Whole Article at Anti-American-Court)
Do not reply to this automatic email.
Respond the original article at: Anti-American-Court Comments.
Find ALL articles at: The Catholic American Thinker CONTENTS.