Subscribers Newsletter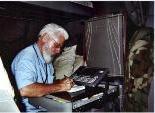 The Popular Rabidly Anti-American American Politicians.
The very presence of the Anti-American American, like that of the Anti-Catholic Catholic, presents more of a threat to the larger body than any alien mortal enemy.
Vic Biorseth, Tuesday, July 25, 2017
https://www.catholicamericanthinker.com

Bill DeBlasio, running for Mayor of New York City, pretty much epitomizes the nationally popular anti-American we keep warning about, seeking and/or holding high office in America. Rabidly anti-American, and yet popular enough to win office in a straight-up election. Watch the video, and you will see what I'm talking about here. That this is the kind of citizen who is a viable candidate in New York speaks volumes about the prominence of anti-American sentiment in New York. It's normal.

Continue Reading at: Anti-American
Do Not Respond To This Automatic Email.
Reply to this article at Anti-American Comments
Find ALL SITE articles at: The Catholic American Thinker CONTENTS.