Subscribers Newsletter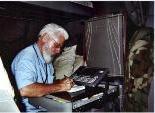 On all the Anti-Christ Christians, and all the Anti-American Americans.
Christ Divides; Anti-Christ would bring us all together. Our Declaration and Constitution Defined us; Multiculturalism is now Redefining Us.
Vic Biorseth, Friday, December 25, 2015
https://www.catholicamericanthinker.com/
Midnight Mass was beautiful, again, in our little Lithuanian Catholic Church. The children led the Pilgrimage Procession, bringing Baby Jesus to the Creche. Our Choir - which is a truly outstanding Choir - was joined by the children. And the children alone sang the Offertory Hymn, and it was heart-warming, touching and inspirational. It was a truly Holy Mass on a truly Holy Night.
The one point (of several) made in the Homily that particularly touched my soul was that, now that Christ was Born and Made Incarnate Again in Catholic Churches on this Most Holy Night, that He should likewise be Born Again within each of us, in a most special way, as we share in His Divinity in the Sacred Meal of the Mass, as we, ourselves, become what we eat: The Body of Christ.
Let Jesus Himself be Born Again, within us! And let us all be Born Again in Him.

(Continue Reading at Original Source: Anti-Christ-Christians.).
Do not reply to this automatic email.
Respond to this article at the actual article:
Respond to Anti-Christ-Christians..
Find ALL articles at: The Catholic American Thinker CONTENTS.