Subscribers Newsletter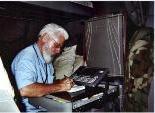 Ars celebrandi et adorandi - Pastoral Letter from Bishop Thomas John Paprocki.
With Ars celebrandi et adorandi, all Springfield IL Catholic Parishes move Jesus back to the center of life! YES!
Vic Biorseth, Thursday, June 26, 2014
https://www.catholicamericanthinker.com/
It was just another day, lately all of them bad and getting worse, with regular, almost boring now, news and evidences of the world's descent into depravity, and how we Americans are actually tyrannically governed by common criminals and enemies of our Constitution. We had our dinner together, and then I went to check on this website, and the "computer view" of what's going on in the world.
And I found this. I am not ashamed to admit that it moved me to tears. This is glorious! I had to read it twice; then I found myself just automatically reading it again.
HOW LONG had our Lord been relegated to some little closet somewhere, in HOW MANY Catholic Parishes? Everywhere; all across America. WHY?

(Continue Reading at Original Source: Ars celebrandi et adorandi).
Do not reply to this automatic email.
Respond to this article at the actual article:
Respond to Ars celebrandi et adorandi