Subscribers Newsletter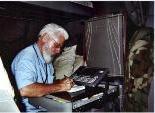 On Freedom of Association Versus the Tyrannical Trend of Associations.
The Natural Law Right of Freedom of Association is Violated Whenever any Association Controls or Affects the Lives of Anyone Outside Of that Association.
Vic Biorseth, Tuesday, January 12, 2021
https://www.catholicamericanthinker.com
The two Constitutional clauses "or the right of the people to peaceably assemble, and to petition the government for a redress of grievances" in the First Amendment of the Constitution, are what have been generally interpreted to be the Constitutional right to freedom of association, and the right to demonstrate, and properly so. The actual words Associate or Association do not appear in the Constitution, nor do the actual words Demonstrate or Demonstration. But the word "Peaceably" does appear.
Continue Reading at: Association
Do Not Respond To This Automatic Email.
Reply to this article at Association Comments
Find ALL SITE articles at: The Catholic American Thinker CONTENTS.