Subscribers Newsletter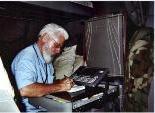 The Athanasian Creed: Setting the Record Straight on the Blessed Trinity.
The adoption of the Athanasian Creed settled the matter, in an explanation of the trinity of the persons of God and the twofold nature of the one divine Person of Jesus Christ.
Vic Biorseth, Sunday, July 10, 2016
https://www.catholicamericanthinker.com/
From the beginning of the Church, the official teaching was that God the Father, God the Son and God the Holy Spirit were one God, in three Divine Persons, and that Jesus Christ, Son of God, was also God. That was actual doctrine, and orthodox teaching. Obviously, not an easy idea to teach to new Christians, especially to highly educated Greeks and philosophers, schooled in worldly logic.
(Continue Reading the Whole Article at Athanasian-Creed)
Do not reply to this automatic email.
Respond the original article at: Athanasian-Creed Comments.
Find ALL articles at: The Catholic American Thinker CONTENTS.