Subscribers Newsletter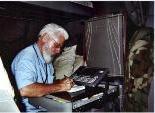 The Anti-Authoritarian Rage at Losing Their Authoritarian Power
On the Authoritarian Rage of the Global Ruling Class upon being Over-Ruled: Pure Insanity, Pure Evil, or Both?
Vic Biorseth, Tuesday, December 20, 2016
https://www.catholicamericanthinker.com/
We all watch in awe as the Left go completely off the rails, and yet keep going, and going, and going, as if they were still on the rails. They just get crazier and crazier, without ever coming up for air. Some of us watch in horror; some of us watch in comic amusement; some watch in vengeful satisfaction; and some reach out a conciliatory hand in vain attempt at reconciling conversion back to simple common sense.
But they just ain't going there.
(Continue Reading the Whole Article at Authoritarian-Rage)
Do not reply to this automatic email.
Respond the original article at: Authoritarian-Rage Comments.
Find ALL articles at: The Catholic American Thinker CONTENTS.