Subscribers Newsletter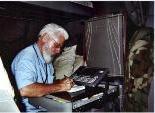 On the importance of real authority in the world; does culture need authority?
It always turns out that those who are most publicly opposed to all authority secretly seek to become super-authoritarian themselves.
Vic Biorseth, Wednesday, March 30, 2016
https://www.catholicamericanthinker.com/
The recently submitted Archbishop Lefevre article, and a rethinking of Salvation Outside the Church, got me thinking about Authority. When is authority appropriate, and when is it illegitimate, and can man do without it?
In America, the Constitution is our chief authority. It holds more authority than any elected or appointed office holder. The assumed authority of our Political Parties is, to me, illegitimate, perhaps even to the point of being illegal, since they clearly and obviously operate to circumvent and even violate the Constitution.
But what about the Church falling into error on matters of civil politics?
(Continue Reading the Whole Article at Authority)
Do not reply to this automatic email.
Respond the original article at: Authority Comments.
Find ALL articles at: The Catholic American Thinker CONTENTS.