Subscribers Newsletter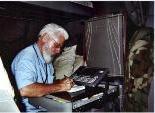 On the necessity of using Barbarian Allies against the worst Barbarians.
Saudi Arabia, Egypt and other Moslem nations so fear ISIS that they will ally with despised America and Israel against it. But never forget that Barbarian Allies are still Barbarians, at the core.
Vic Biorseth, Tuesday, May 16, 2017
https://www.catholicamericanthinker.com
Robert Spencer of Jihad Watch is worried that National Security Advisor H. R. McMaster may lead President Trump into error on the nature of Islam. And he may be right about that. But he may be underestimating Trump, too. Trump came to the Presidency from a life long successful career in big-time wheeling and dealing with all sorts of powerful men, foreign and domestic, many of whom were his enemies. I doubt that anyone in Washington could teach him very much about diplomacy.
Continue Reading at: Barbarian-Allies
Do Not Respond To This Automatic Email.
Reply to this article at Barbarian-Allies Comments.
Find ALL SITE articles at: The Catholic American Thinker CONTENTS.