Subscribers Newsletter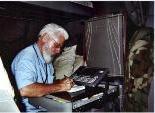 Bible Christians: More Biblical than Catholics? No. Not by a long shot.
Bible Christians all think their "church" is Bible-based; but the Bible is Catholic-based. The Word produced the Church, and then the Church produced the Bible.
Vic Biorseth, Tuesday, May 17, 2016
https://www.catholicamericanthinker.com/
It wasn't until some 50 years after the Assumption of Jesus into heaven that the Evangelists even wrote the four Gospels. Until then, and even after, all of the Catholic (Universal) Traditions were kept Catholic and they were preached and passed on exclusively by word of mouth and by letter (2 Thes 2:15). The Apostles didn't even know they were writing a "Bible" when they wrote all of their Epistles. They were preaching, and they were Correcting, and they were Evangelizing, through the Word that had been given them by our Lord, and that had been continually brought to their remembrance by the Holy Spirit (John 14:26).
(Continue Reading the Whole Article at Bible-Christians)
Do not reply to this automatic email.
Respond the original article at: Bible-Christians Comments.
Find ALL articles at: The Catholic American Thinker CONTENTS.