Subscribers Newsletter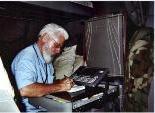 Are right and wrong always black and white, or are there shades of grey?
There is the Spirit (the Kingdom), the Flesh (the World), and You. Love unites (or divides) you to one of them, and Love is Black and White. Always.
Vic Biorseth, Wednesday, April 15, 2015
https://www.catholicamericanthinker.com/
[41] Watch and pray that you may not enter into temptation; the spirit indeed is willing, but the flesh is weak."--Matt 26:41
The Spirit of the Kingdom is the Third Person of the Holy Trinity: God the Holy Ghost. The Tempter of the Flesh is Lucifer, the Ruler of the World. You stand in the middle, here in this world, where the battle between Good and Evil rages. The battle is being fought over You.

(Continue Reading at Original Source: Black-and-White).
Do not reply to this automatic email.
Respond to this article at the actual article:
Respond to Black-and-White.