Subscribers Newsletter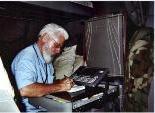 [Culture=Religion+Politics] Book, Reviewed by Accuracy In Media (AIM)
Cliff Kincaid reviews our latest book, and this site.
Vic Biorseth, Tuesday, November 24, 2015
https://www.catholicamericanthinker.com/
This is reprinted from the AIM site.
- Accuracy In Media - http://www.aim.org -
Catholic Writer Hits "Crony Catholicism" Posted By Cliff Kincaid On November 23, 2015 @ 1:48 am In AIM Column | 1 Comment
Catholic writer Vic Biorseth has coined the term "Crony Catholicism" to describe how the American branch of the Roman Catholic Church has been working hand-in-glove with the Obama administration, even assisting in what he calls "the advance of Islam in America at the expense of Christianity." Biorseth is among a growing group of American Catholics who have become disillusioned with the liberal trends in the church and have turned to the use of new media, including blogs, to sound the alarm.

(Continue Reading at Original Source: Book-Review-By-AIM.).
Do not reply to this automatic email.
Respond to this article at the actual article:
Respond to Book-Review-By-AIM..
Find ALL articles at: The Catholic American Thinker CONTENTS.