Subscribers Newsletter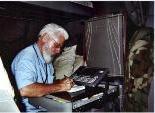 Breaking Dissimilation: Cultural Evil masquerading as Assimilation.
Breaking Dissimilation means maintaining Who We Are, as a Distinct People, in the face of Forced, Purposeful Immigration of Evil.
Vic Biorseth, Monday, June 13, 2016
https://www.catholicamericanthinker.com/
We have heard "We are a nation of immigrants" until it's coming out of our ears. What is missing from the statement is the word Assimilated. We are a nation of Assimilated immigrants. People who came here, legally, to assimilate, and to become Americans, because being here and being American was better than being wherever they were from, and being whatever nationality they had been.
That's why they came here. To assimilate. To become American.
(Continue Reading the Whole Article at Breaking-Dissimilation)
Do not reply to this automatic email.
Respond the original article at: Breaking-Dissimilation Comments.
Find ALL articles at: The Catholic American Thinker CONTENTS.