Subscribers Newsletter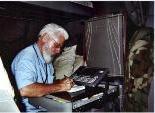 Breaking Obamacare: Eliminating Socialized Medicine once and for all.
Breaking Obamacare and showing that neither Health Care nor Health Care Insurance are the Constitutional business of the federal government.
Vic Biorseth, Saturday, April 30, 2016
https://www.catholicamericanthinker.com/
Any time you hear any American, from any Party, of any political persuasion, say that what we need to do about Obamacare is to "Repeal and Replace" it, you will be listening to someone who never even read and understood the American Constitution.
Neither Health Care nor Health Care Insurance are listed among the limited and enumerated powers of the federal government in Article 1 Section 8 of the Constitution. The federal government has no business, and indeed us unqualified, to even address any kind of medicine or any kind of insurance, whether in law, in executive action, in regulation or in adjudication of any law or action or regulation. They are out of scope. They are matters of lower jurisdiction, if any.
(Continue Reading the Whole Article at Breaking-Obamacare)
Do not reply to this automatic email.
Respond the original article at: Breaking-Obamacare Comments.
Find ALL articles at: The Catholic American Thinker CONTENTS.