Subscribers Newsletter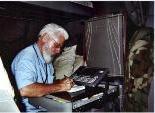 Breaking Regulation: Ending unconstitutional, unlegislated lawmaking.
Breaking Regulation means shutting down unrepresentative and unconstitutional bureaucracies that make regulations with full force of law behind them.
Vic Biorseth, Saturday, April 30, 2016
https://www.catholicamericanthinker.com/
United States Constitution, Article I, Section 1: "All legislative Powers herein granted shall be vested in a Congress of the United States, which shall consist of a Senate and House of Representatives."
The key word here is the first word: "All". The Constitution nowhere grants Congress the authority or the ability to "delegate" any of its exclusive legislative authority to any other entity, whether that entity be a constitutional entity or otherwise. And yet today we see a myriad of unconstitutional government entities in the form of invented agencies and bureaucracies, many with unconstitutional purposes, missions and reasons for being, issuing "regulations" with full force of law behind them.
Regulation: An unlegislated, unrepresentative and unconstitutional law.
(Continue Reading the Whole Article at Breaking-Regulation)
Do not reply to this automatic email.
Respond the original article at: Breaking-Regulation Comments.
Find ALL articles at: The Catholic American Thinker CONTENTS.