Subscribers Newsletter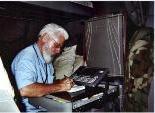 Breaking Secularism: Our Unconstitutional "Separation of Church and State".
Restoring religious freedom requires breaking secularism, breaking Unconstitutional Political Parties and restoring our original Judaeo-Christian National Ethos.
Vic Biorseth, Monday, May 23, 2016
https://www.catholicamericanthinker.com/
Basically, we ain't going nowhere unless and until we Break our Political Parties. Political Parties demand first allegiance to them, not to the Constitution. Parties appoint and confirm Judges and Justices, who owe allegiance to Parties, not the Constitution. Party Judges and Justices use the Religion Clause in the First Amendment as a club with which to beat Christians, and as an excuse to bless and protect legally forced social secularism, and to protect and promote anti-Christian and anti-American religions, such as pure atheism, atheistic-Marxism, Islam and even Satanism. Whatever opposes Christ, the Courts will support.
(Continue Reading the Whole Article at Breaking-Secularism)
Do not reply to this automatic email.
Respond the original article at: Breaking-Secularism Comments.
Find ALL articles at: The Catholic American Thinker CONTENTS.