Subscribers Newsletter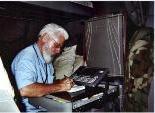 Breaking The FED: Repealing the 1913 Federal Reserve Act to Restore Treasury.
Getting America's Currency and Treasure back under America's government requires breaking the FED.
Vic Biorseth, Saturday, May 07, 2016
https://www.catholicamericanthinker.com/
As prologue to understanding where this latest government pre-planned economic catastrophe is going and why, it might be best, if you haven't read it, to read Repealing the FED Act, and then to read the Original Government Induced Financial Crisis.
We all need to understand how President Woodrow Wilson was behind the evil invention of the extra-Constitutional and outside-the-government FED, and how the FED played a major role in causing and prolonging and feeding the Great Depression. And in getting economic control of America into extra-government hands. It helped to cause, and contributed mightily to the Great Depression that very nearly economically destroyed us as a nation.
And then it took undeserved public credit for easing and ending it.
When nothing could be farther from the truth.
Fort Knox is the only "Federal Reserve" national bank we ever needed.
(Continue Reading the Whole Article at Breaking-The-FED)
Do not reply to this automatic email.
Respond the original article at: Breaking-The-FED Comments.
Find ALL articles at: The Catholic American Thinker CONTENTS.