Subscribers Newsletter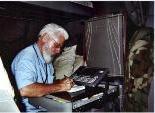 Breaking the Media control of public political opinion and slanted information.
A return to American Constitutionalism and recognizing truth requires breaking the media's controlling relationship to American politics.
Vic Biorseth, Wednesday, April 27, 2016
https://www.catholicamericanthinker.com/
If you have been with me long enough, by now you know that the level of disgust I hold for the Mainstream News Media is barely concealable. What is disgusting is the tight linkage of media personalities with the power brokers of "The Club" - the elite, high-society owners of the Political Parties. Membership in this elitist club presents a lucrative career path for "Journalists" that is based on persona, celebrity, gravitas, screen-presence, contacts, etc., all of which come before news. And when it gets down to the news, the way the news as reported is always slanted, if indeed it has any thread of truth in it at all.
(Continue Reading the Whole Article at Breaking-The-Media)
Do not reply to this automatic email.
Respond the original article at: Breaking-The-Media Comments.
Find ALL articles at: The Catholic American Thinker CONTENTS.