Subscribers Newsletter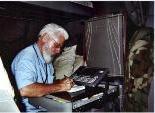 Are we the real Catholic Church, or the Church of All Nice People?
Does the real Catholic Church worship God, or itself? Is it a distinct religion, or is it a "Blend"? Is Truth Himself unchangeable, or malleable?
Vic Biorseth, Friday, June 02, 2017
https://www.catholicamericanthinker.com
Will the real Catholic Church please stand up?
A recent "Best Of" Vortex video put a lot of emphasis on all the "inclusiveness" and "compromising" that this website has been opposing from its birth. In this video, Michael Voris points to the false "ecumenism" that has entered the pro-life movement, to its eventual destruction.
Continue Reading at: Catholic-Church
Do Not Respond To This Automatic Email.
Reply to this article at Catholic-Church Comments
Find ALL SITE articles at: The Catholic American Thinker CONTENTS.