Subscribers Newsletter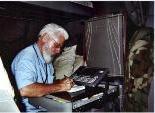 On the Origin and Destiny of the American Catholic Identity Crisis.
The ongoing 50+ year American Catholic identity crisis was born of a split between the Magisterium who protected it, and the academics who taught it.
Vic Biorseth, Tuesday, May 12, 2015
https://www.catholicamericanthinker.com/
As a local delivery driver, I don't get to hear any "complete" broadcast of any of the big-time talk show hosts, and that's unfortunate. From 9 AM until noon, I flip between Glenn Beck and Herman Cain. Somewhere between 10:30 AM and noon, I eat my lunch and turn it off for my rosary. From noon until 3 PM, I listen to Rush. After 3 PM, I start out with Sean Hannity, but shortly thereafter, I almost always wind up flipping to EWTN Catholic Radio and staying there. But, like I say, I'm always in and out of the vehicle, so I miss a lot. The one I try to miss the least is Rush.

(Continue Reading at Original Source: Catholic Identity Crisis).
Do not reply to this automatic email.
Respond to this article at the actual article:
Respond to Catholic Identity Crisis.