Subscribers Newsletter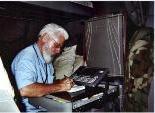 Join the Catholic Resistance, and wage Guerilla warfare against Evil.
Catholic Resistance to Evil means personal sacrifice. It means continually evangelizing, even when and where evangelization is not welcome.
Vic Biorseth, Tuesday, August 30, 2016
https://www.catholicamericanthinker.com/
The Catholic call is not a call to "goodness" and individual salvation. It is a call to holiness, and holiness is not a stand-alone, one man at a time path to salvation. Holiness affects others, or it is not holiness. Don't expect to get to heaven by being "good", on your own, and divorcing yourself from the world, or by joining some small like-minded enclave and letting the rest of the world go to hell. That is retreating from the enemy.
(Continue Reading the Whole Article at Catholic-Resistance)
Do not reply to this automatic email.
Respond the original article at: Catholic-Resistance Comments.
Find ALL articles at: The Catholic American Thinker CONTENTS.