Subscribers Newsletter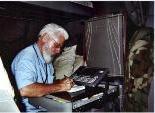 The Citizenship Question on the 2020 Census
Are the Marxocrats Right? Is there really such a thing as Death By Census?
Vic Biorseth, Thursday, July 11, 2019
https://www.catholicamericanthinker.com
How is it that including a question regarding American citizenship on the American Census is racist?
Well, these days, if it opposes the Marxocrat Party position on anything, it's racist. A citizenship question on a national census is racist the same way that President Trump is racist. If you oppose the Marxocrats, you're a racist; opposing Marxocrat Party Ideology today is, definitively, racist. As shown in Marxocratism, the 2016 campaign, election and inauguration of President Trump focused all of that anti-Americanism on one man, who, being opposed to the anti-American Marxocrat Party, became, in their eyes, the racist-in-chief of the Marxocrat Party's totally racist political opposition.
Continue Reading at: Census
Do Not Respond To This Automatic Email.
Reply to this article at Census Comments
Find ALL SITE articles at: The Catholic American Thinker CONTENTS.