Subscribers Newsletter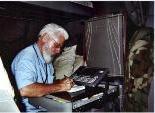 On the Unrecognized Civil War underway in Western Civilization.
Three Civil Wars: A Rising Up against a Discovered Silent Coup, (1) In the American Government, (2) In the Catholic Hierarchy, (3) In All of Western Civilization.
Vic Biorseth, Wednesday, September 05, 2018
https://www.catholicamericanthinker.com

Since we last spoke of our politics descending into civil war, things have only gotten worse. With Antifa rioters in the streets and with Marxocrat Senators bringing screaming Code-Pink "demonstrators" into the visitor gallery at the Judge Kavanaugh Confirmation Hearings, and with Marxocrat Senators themselves behaving like spoiled, angry, disruptive, hyperventilating, nonsensical adolescents, America in general and Washington DC in particular are taking on the appearance of an un-walled insane asylum.

Continue Reading at: Civil-War-2
Do Not Respond To This Automatic Email.
Reply to this article at Civil-War-2 Comments
Find ALL SITE articles at: The Catholic American Thinker CONTENTS.