Subscribers Newsletter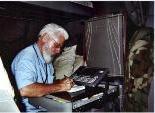 Direct Confrontation of our Enemies is what's missing in American Policy.
Marxism and Islam are using the Trojan Horse approach to getting in among us, promoting "Diversity", "Multiculturalism" and Moral Corruption, to prepare the way for our downfall.
Vic Biorseth, Wednesday, September 13, 2017
https://www.catholicamericanthinker.com

The mortal enemies of America are right in here among us in America. The mortal enemies of the Church are right in here among us in the Catholic Church. Before you can confront an enemy, you have to recognize the fact that he is your enemy. That's the problem. Our own mortal enemies are not even recognized as being our own mortal enemies.

Continue Reading at: Confrontation
Do Not Respond To This Automatic Email.
Reply to this article at Confrontation Comments
Find ALL SITE articles at: The Catholic American Thinker CONTENTS.