Subscribers Newsletter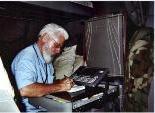 All the Congressmen boycotting Trump's inauguration are of one Marxist mindset.
How much ya wanna bet all the Congressmen boycotting the inauguration should have been impeached from office and charged with criminal malfeasance in office long ago?
Vic Biorseth, Tuesday, January 17, 2017
https://www.catholicamericanthinker.com/
Every Congressman and every Senator who voted to pass Obamcare violated the Constitution and their sworn oaths of office to do so. So did every Supreme Court Justice who voted to sustain it. And now, in boycotting the inauguration of Trump, they verify to the world their direct opposition to the American Constitution. Which is to say, their open anti-Americanism.
Continue Reading at: Congressmen-Boycotting-Inauguration
Do Not Respond To This Automatic Email.
Reply to this article at Congressmen-Boycotting-Inauguration Comments.
Find ALL SITE articles at: The Catholic American Thinker CONTENTS.