Subscribers Newsletter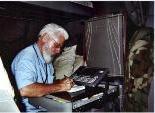 Table of Contents
Vic Biorseth, Tuesday, July 30, 2013
https://www.catholicamericanthinker.com
This webpage was inspired by comments from John of Escondido, California, whose motivating comments can be seen after the Of Lies and Liars webpage. John recommended an "executive summary" of each webpage, which seemed at first to present a daunting task. But brief descriptors that are known as meta-descriptions are already attached to each webpage, and each webpage with its meta-description is already represented in various right-column sets of links to webpages. So, with the "reusable code" of all of those right-column link-sets already available, it should be a fairly simple task to re-use them all in this webpage, showing the meta-description of every article.
Note that there are many groups of right-column webpage links that are titled
First Group,
Right Column Links
but that only one of them, if any, will be seen in the right column of whatever webpage you are currently looking at in your browser. Content-related webpages are grouped within appropriate right-column link-sets. There is only one Second Group, one Third Group and one Fourth Group of right column links.
So, here is the new Table of Contents.

Continue Reading the Whole Article at Table of Contents



Do not reply to this automatic email.
Respond to this article at the link below:
Table of Contents
This article and comments may be found on the web site at the link below:
https://www.catholicamericanthinker.com