Subscribers Newsletter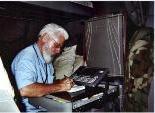 The Creeds, and Credal Faith, teach the Mystery of God Himself
Who could "scientifically" understand the Trinity, or the God-And-Man nature of Jesus? We can only embrace Divine Revelation through Catholic Credal Faith.
Vic Biorseth, Monday, July 02, 2018
https://www.catholicamericanthinker.com

The Christian Creeds present the simplest path to man's gaining proper understanding of God, Who cannot be studied in material ways. A Creed presents a "short hand" exposition of the all the Revealed Truth of God. The material cannot immediately comprehend the ephemeral, which cannot be examined in material ways.

Continue Reading at: Credal-Faith
Do Not Respond To This Automatic Email.
Reply to this article at Credal-Faith Comments
Find ALL SITE articles at: The Catholic American Thinker CONTENTS.