Subscribers Newsletter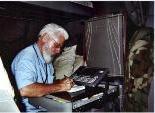 On America's Hidden Criminal Government
Does President Trump recognize the breadth, depth and scope of the actual Criminal Enterprise now running America behind the scenes?
Vic Biorseth, Thursday, May 10, 2018
https://www.catholicamericanthinker.com

We have previously addressed the deep criminality in our government in, for example, the Criminal Government page, where it was shown that the sitting President of the United States and his Secretary of State set up Ambassador Stevens for slaughter in Benghazi on the anniversary of the 9/11/01 attack. No one else in the world could have sent him to be there on that date for the carefully pre-planned Al Qaeda ambush. That the President and the Secretary of State had to be and were in on it was clear and obvious to anyone with eyes to see.

Continue Reading at: Criminal-Government
Do Not Respond To This Automatic Email.
Reply to this article at Criminal-Government Comments
Find ALL SITE articles at: The Catholic American Thinker CONTENTS.