Subscribers Newsletter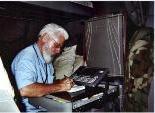 Cultural Marxist Indecency is always on public display.
It's so obvious even the lying media can't hide it any more.
Vic Biorseth, Sunday, January 29, 2017
https://www.catholicamericanthinker.com
The reason they drop the F-Bomb in every other sentence is because the F-Bomb is in the excepted language and the normal lexicon of their classless class. It isn't that they can't help themselves out of relatively innocent social ignorance or poor upbringing. It is the typical language in their homes, and they don't see anything wrong with it because they were raised in it, and educated in it, even in "the best" of schools. It is the language of their parents and of their teachers. It is the language of their Cultural Marxist Class.
Continue Reading at: Cultural-Marxist-indecency
Do Not Respond To This Automatic Email.
Reply to this article at Cultural-Marxist-indecency Comments.
Find ALL SITE articles at: The Catholic American Thinker CONTENTS.