Subscribers Newsletter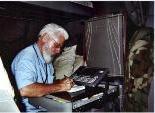 Knock-knock; shake-shake; Jeff Sessions, are you awake?
All of us ordinary American citizens can clearly see the DOJ and FBI Criminal Enterprise for what it has become. Jeff Sessions is either part of it, or he's asleep at the wheel.
Vic Biorseth, Thursday, April 19, 2018
https://www.catholicamericanthinker.com

Eleven members of Congress have sent a humiliating letter of criminal referral to Attorney General Jeff Sessions demanding that he do his job and investigate at least some of the glaringly obvious crimes committed by everyone on the Left, from Madam Hillary herself right on down the line.

Continue Reading at: DOJ-and-FBI-Criminal-Enterprise
Do Not Respond To This Automatic Email.
Reply to this article at DOJ-and-FBI-Criminal-Enterprise Comments
Find ALL SITE articles at: The Catholic American Thinker CONTENTS.