Subscribers Newsletter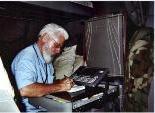 Deep Church Traitors: Homosexual Plants in the Shadow Church.
"Most" Deacons, Priests, Bishops, Cardinals, etc., are "Good" Clerics? Sez who? Where's the evidence of that?
Vic Biorseth, Thursday, July 13, 2017
https://www.catholicamericanthinker.com

Having just published Deep State Traitors in which I challenged the claim that "most" FBI agents (and CIA, and NSA, etc.) are "Excellent" agents acting in America's best interest. From my civilian position, I see no evidence supporting that. All I see is corruption coming out of these agencies. Falsehoods. Leaks, including criminal leaks, involving evidence against President Trump or his associates that always turns out to be false, fabricated, made up out of thin air. Meanwhile, such glaringly obvious government-induced criminal actions as Fast and Furious, Beghazi, US Uranium to Russia, the Clinton Crime Family Foundation, Clinton "pay-for-play" money raising, etc., etc., etc., go "un-leaked" and un-investigated.

Continue Reading at: Deep-Church-Traitors
Do Not Respond To This Automatic Email.
Reply to this article at Deep-Church-Traitors Comments
Find ALL SITE articles at: The Catholic American Thinker CONTENTS.