Subscribers Newsletter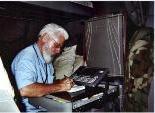 Media Lies, Corrupted Deep-State Agencies and Marxified America.
The Establishment-Owned Deep-State and their Media Leaks Versus President Trump and America As Constituted.
Vic Biorseth, Saturday, May 13, 2017
https://www.catholicamericanthinker.com
President Billary Clinton cleaned out federal agencies and put his own pro-Marxist people in there. He fired every single attorney in the Attorney General's office, and replaced them with Lefties and with personal and Marxocrat Party surrogates. People who would quietly and without formal instruction, do his bidding, work in the Party's interest and who would always lean Left.
That's the kind of thing Leftists do.
Continue Reading at: Deep-State
Do Not Respond To This Automatic Email.
Reply to this article at Deep-State Comments.
Find ALL SITE articles at: The Catholic American Thinker CONTENTS.