Subscribers Newsletter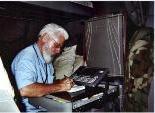 Deepest Treason: High-Placed Traitors Investigating Each Other.
Traitors at the level of Jeff Sessions commit the Deepest Treason against the USA. The deepest members of the Deep State "Investigate" and cover up each other's deep treason.
Vic Biorseth, Thursday, October 19, 2017
https://www.catholicamericanthinker.com

Honorable Men? Reputations above reproach? Dedicated Public Servants?

Excuse me?

The few remaining true-blue Americans serving in Congress have been requesting information on apparent criminal activity in the Obama regime (and even way back in the Clinton regime) for years and years, and nothing is ever forthcoming.

They're "working on it". They can't comment on ongoing investigations.

In fact, they can't comment on the existence of an investigation.

Right.

Perfect cover.

Continue Reading at: Deepest-Treason
Do Not Respond To This Automatic Email.
Reply to this article at Deepest-Treason Comments
Find ALL SITE articles at: The Catholic American Thinker CONTENTS.