Subscribers Newsletter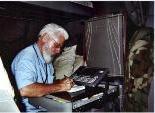 Democracy Breaking: Returning America to a Constitutional Republic.
Repealing Wilson's 16th and 17th Amendments, and returning to America's brilliant original conceptual design.
And again, carrying it into Catholicism, correcting the widespread notion that the Church is or could ever be a Democracy.
Vic Biorseth, Monday, February 06, 2017
https://www.catholicamericanthinker.com
President Woodrow Wilson was imbued with "Progressive" Marxist ideology. He sought to transform America from a Constitutional Republic to a Democracy, as a stepping-stone to Socialism, which is a stepping-stone to Communism. He, more than any other President, until Comrade President Obama (peace be upon him), did more to wreck the original design of America than any other President, including even Hoover and FDR.
Continue Reading at: Democracy-Breaking
Do Not Respond To This Automatic Email.
Reply to this article at Democracy-Breaking Comments.
Find ALL SITE articles at: The Catholic American Thinker CONTENTS.