Subscribers Newsletter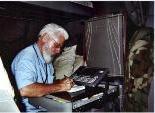 Political Parties = Political Denominationalism = Diversity in Patriotism.
Denominationalism varies Revealed Truth; Political Parties vary Constitutional Meaning
Vic Biorseth, Wednesday, October 12, 2016
https://www.catholicamericanthinker.com/
A recent discussion in Al Kresta's regular radio broadcast on Catholic Radio got me thinking about this. He was talking about religious denominations, but I began to see our Political Parties as "denominations" of Constitutional interpretation.
In common usage, Denominationalism refers to adherence to the principles of a particular Christian denomination, perhaps to the point of sectarian exclusivity. It denotes the ecclesial and doctrinal territorial lines between Denominations. While there is one and only one original Revelation of Christian truths, each Denomination holds some unique interpretation of that original Revelation that differs from all others, and thus defines the particular Denomination.
(Continue Reading the Whole Article at Denominationalism)
Do not reply to this automatic email.
Respond the original article at: Denominationalism Comments.
Find ALL articles at: The Catholic American Thinker CONTENTS.