Subscribers Newsletter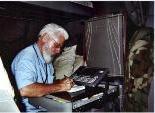 Thou shalt not Discriminate, lest thou commit the Newest Mortal Sin of Man.
Let us unite all Humanity in Indiscriminate Behavior, knowing that all who still Discriminate delay the human development of Perfect Worldly Utopia. Let us make our own Heaven right here on earth.
Vic Biorseth, Tuesday, June 09, 2015
https://www.catholicamericanthinker.com/
To Discriminate is to Sin. Discrimination is now the only sin. Libertarianism is the new Bible of morality and acceptable social norms in the development of human culture. In all likelihood, it is now as it was in ancient Sodom and Gomorrah. Then, as now, and as always, homosexuality did not predominate; it was a small minority activity, but it was universally accepted by the larger culture. As was every other form of sexual sin. That's Libertarianism. Strictly worldly freedom.

(Continue Reading at Original Source: Discriminate).
Do not reply to this automatic email.
Respond to this article at the actual article:
Respond to Discriminate.
Find related articles at: The Winnowing Pages.
Find ALL articles at: The Catholic American Thinker CONTENTS.