Subscribers Newsletter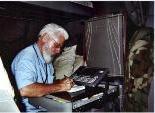 Displacing God in Culture, for Fun, Profit, and Revolution.
For Marx and Engles, it was for Revolution; for the Lustful, it was for Fun; for the Entrepreneurs of Lust, it was for Profit. And they all worshiped Darwin.
Vic Biorseth, Tuesday, March 06, 2018
https://www.catholicamericanthinker.com

An email from a fellow Catholic Resistance member turned me onto this. There is new falsification, among the others, of the faith of Darwinism. I call it a "faith" because there is no empirical evidence supporting it, and it is held by faith alone. Adherents to Darwin's theories may thus be described as men of faith, rather than men of science.

Continue Reading at: Displacing-God
Do Not Respond To This Automatic Email.
Reply to this article at Displacing-God Comments
Find ALL SITE articles at: The Catholic American Thinker CONTENTS.