Subscribers Newsletter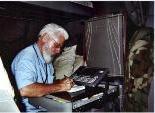 On the Dividing Lines that make distinct religions, nations and cultures
Globalism, the UN, the EU, Marxism and Islam all blur dividing lines to force the world into one impossible hodgepodge mixture of cultures, from the most civilized to the most barbaric.
Vic Biorseth, Monday, May 15, 2017
https://www.catholicamericanthinker.com
The civilized world is being mesmerized into embracing contradictory facts, in direct opposition to simple logic. Holding that "we are all the same" when in fact we are not all the same is a violation of Aristotle's law of non-contradiction. Very simply, civilized men and barbarians cannot peacefully coexist in the same united human culture. They are mortally contradictory "types". They will end up killing each other.
Continue Reading at: Dividing-Lines
Do Not Respond To This Automatic Email.
Reply to this article at Dividing-Lines Comments.
Find ALL SITE articles at: The Catholic American Thinker CONTENTS.