Subscribers Newsletter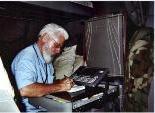 Draining Swamps (Plural) through the Information Revolution.
Well, ya gotcher Global Swamp, ya gotcher National Swamps andja gotcher Catholic Clerical Swamp. And Information Technology is the Roto-Rooter in all of them.
Vic Biorseth, Friday, February 24, 2017
https://www.catholicamericanthinker.com
Information technology, and the Social Media it gave birth to, is rapidly breaking the monopolistic hold of "The Media" on what the public knows, and when the public knows it. And how the news is politically slanted. All the "Upstart" alternative media, from talk radio to the newer Cable networks to Websites, Blogs and the Social Media explosion, to Smart-Phone global connectivity, all work to enable Personally Acquired Information.
Continue Reading at: Draining-Swamps
Do Not Respond To This Automatic Email.
Reply to this article at Draining-Swamps Comments.
Find ALL SITE articles at: The Catholic American Thinker CONTENTS.