Subscribers Newsletter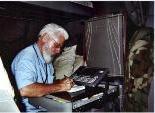 The Ebola Setup: Another possible trigger for the final Revolution?
The purposeful government infection of America, through the Ebola setup. Why?
Vic Biorseth, OWM; Wednesday, October 15, 2014
https://www.catholicamericanthinker.com/
Ebola in America was no accident. That's just crystal clear, although almost no one wants to believe it. The purposeful government Disinformation Program that has been operational since Marxist ideology completed its long march through American institutions has done its multi-generational damage. Almost no one can, or will, believe that a sitting US government might seek to harm us rather than protect us and seek our better interests.

(Continue Reading at Original Source: Ebola Setup).
Do not reply to this automatic email.
Respond to this article at the actual article:
Respond to Ebola Setup.