Subscribers Newsletter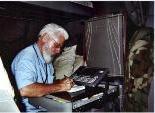 Raw Emotion: Marxism's Weapon against Intellect and Reason.
Marxism feeds and grows Emotion in populations, to then "Emote" Representative Government out of existence through Emotion-Driven Advocacy.
Vic Biorseth, Wednesday, September 06, 2017
https://www.catholicamericanthinker.com

Even President Trump has been "Emotionalized" by it. He issued his kinder, gentler rescinding of Obama's unconstitutional DACA executive action based on pure emotion rather than manly reason, critical thinking and direct application of existing representative and Constitutional law.

The dirty trick of "emotionalizing" topics to overpower reason was actually invented by Protestantism, but it has been commandeered by Marxism and is now the primary political tool of America's Marxocrat Party. (See the Emotionalizing article for Western Culture's history of it.)

Continue Reading at: Emotion
Do Not Respond To This Automatic Email.
Reply to this article at Emotion Comments
Find ALL SITE articles at: The Catholic American Thinker CONTENTS.