Subscribers Newsletter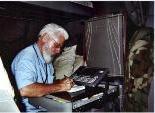 Emotionalizing the Intellect as Preparation for Revolution.
Emotionalizing Religion, Emotionalizing Science and Emotionalizing Politics: Displacing Rational Thinking with Pure Raw Emotion, for the eventual Violent Overthrowing of Human Civilization.
Vic Biorseth, Thursday, June 22, 2017
https://www.catholicamericanthinker.com
Emotion-Driven Christianity
In October of 1529, a mere 12 years after Martin Luther had posted his 95 theses, the Reformers met at Marburg Castle to try and resolve differences and come up with a unified theology of the "Reformed" Church. They failed. Miserably. The "Reformation", singular, had become the "Reformations", plural, already, in a mere 12 years.
Predictably so.
Continue Reading at: Emotionalizing
Do Not Respond To This Automatic Email.
Reply to this article at Emotionalizing Comments
Find ALL SITE articles at: The Catholic American Thinker CONTENTS.