Subscribers Newsletter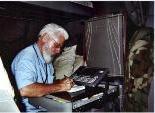 On the Establishment Rage aimed at President Trump.
Globalist, Marxist, Anti-American, Anti-Christian, Anti-Law, Unbalanced Establishment Rage aimed at the Trump Presidency and Agenda, is Dedicated and Committed to Destroying his Presidency.
Vic Biorseth, Friday, March 03, 2017
https://www.catholicamericanthinker.com

The first thing that must be realized when considering the Establishment that is and has been running the American government just about all of all of our lives, is that, at the core, the Establishment is Evil. The fact that everyone in it doesn't necessarily know that it's evil doesn't detract from the fact that it is, overall, evil. It is power-based, not Constitution based; in point of fact, it is anti-Constitution. It opposes Truth in every area of it's power and control. Everything about it is based on falsehood and untruth - lies - and it lies to keep and gain more and more power over the people and their government.

Continue Reading at: Establishment-Rage
Do Not Respond To This Automatic Email.
Reply to this article at Establishment-Rage Comments.
Find ALL SITE articles at: The Catholic American Thinker CONTENTS.